2020 has been a real shitshow, amiright? Consider how hard it's been for our local business owners that depend on local tourism and foot traffic. If you have a favourite local shop or restaurant and they are still surviving this pandemic, there is no better time to celebrate them than supporting them this holiday season. Lots of these businesses have gone online this year so no need to go out in the cold, just visit their websites and social pages and click a few buttons to order your gifts. You can find many of the vendors I mention at the Kingston Holiday Market, they ship and have items available for a safe pick up! If you're looking to support Black-owned businesses this holiday, please take a look at this working list!  Update: *Note: the Holiday market is closed for this season. Check out Artisan Made Co  for more local makers! For a list curated from community suggestions, check out, "Community Curated Local Holiday Shopping List"
Dress them
Lots of options here for that person who appreciates a good outfit or accessory! From earrings to trendy track pants, you'll find something below.

Skeleton Park Creations: The cutest handmade clay earrings! I love the shapes and designs. Taylor does custom orders as well. They would make a great gift!
Sherry Jeffery: Sherry makes the most beautiful earrings – by hand! Whoever receives her accessories is bound to get compliments every time they wear them.
Amelia Rose Label: Plenty of trendy prints and accessories can be found on her site!
Pure Balanxed: Very soft and comfy sweaters and track pants subtly donned with encouraging wording like, "I am Worthy."
Fancy That: Head to this locally-owned shop downtown to pick out something unique! Or, check out their online shop. They carry some of the suppliers I mentioned above like Pure Balanxed and Amelia Rose.
Whit Kingston: A clothing and gift store that pays homage to the Limestone City through apparel and home items donning the names of local neighbourhoods and lakes.
Closett Candyy: If you know someone who could use a closet overhaul or a bit of style inspiration, Jesse of Closett Candyy is a style consultant. Get a gift card for her services!

Pure Colour Baby: This spot is for the pint size fashionista in your life! The grow-with-me clothes are locally made with the softest fabrics. If you're buying for Mom, too, they have some matching crew shirts.
Rock Your Phone: Looking to gift the trendiest, prettiest phone accessory? Look no further. These pop rocks keep your phone from falling on your face while you scroll and they look good while doing it.
Pamper Them
If you want to give the gift of pampering, try a gift card to one of these spas! I love all of them for different reasons, but they all have amazing products and awesome services: Cher Mere and Cher Mere West, Refinery, Annex and Annex East. If you're going for more of an at-home spa experience, treat them to products by Shiva's Delight or Afiya Beauty (I love the botanical facial steam!) and top off the experience with sustainably-made candles by Twelve Five or Rhicreations.
Surprise them
Sometimes a less conventional gift can be a nice surprise! Check out the list below to see a few ideas that might be just what that special person in your life will appreciate.
A Class at Tie One On Kingston: Gift a workshop to do a fun craft. This gift does double duty of an experience and the take home from whatever was created in class!

A Family Photo Session: There are so many amazing photographers in town. These are my favourites to capture beautiful family moments: Niche Photography, With Love and Wild, Taylor Clark Photography, Jillian Lorraine Photography.
Happy Thoughts: This sweet little shop has such a diverse selection of items for just about anyone. Pretty scarves, quirky socks, stunning stock and planners, the list goes on and on.
The Jungle or The Plant Shelf: These plant shops are more than plants! Beautiful pieces that will warm any house.
Popped Closet Organizing: Any busy person who hasn't had time to reassess their space this year but has binged Home Edit on Netflix and would appreciate a reassessment of their space with a professional. Jocelyn from Popped Closet is perfect for that and offers virtual sessions as well.
Feed them
So many awesome restaurants to choose from. Grab a meal or a gift card for your foodie from one of the many locally owned restaurants: The Everly, Olivea, Casa Domenico, Tango Nuevo, Woodenheads, Chez Piggy, Pan Chancho, NORTHSIDE, Miss Bao Kingston, and more. In the west end, Bella Bistro and Bella Market and Days on Front are also great options! Or, if they are vegan, treat them to a pre-made meal by the amazing team at Knifey Spooney so that they can eat well this holiday season. Or, order jerk sauce from Munchy Guru or delectable Jamaican patties! Kingston is also home to the amazing cheesecakes and cheesecake jars by Cheesecakery Bakery — perfect holiday for a sweet tooth. And don't forget to check out Cocoa Bistro for incredible chocolate! Last one, Mio Gelato is offering lots of delicious holiday boxes! Use the code KEEPUPWITHGELATO for 10% off of their holiday collection.

Cheers them
Connect with the beer drinker in your life and either grab them a case of their favourite IPA or introduce them to something new from one of our local breweries: Riverhead, Skeleton Park, Spearhead, Mackinnon Brothers, Stone City Ale, Daft Brewing, Fine Balance Brewing Company.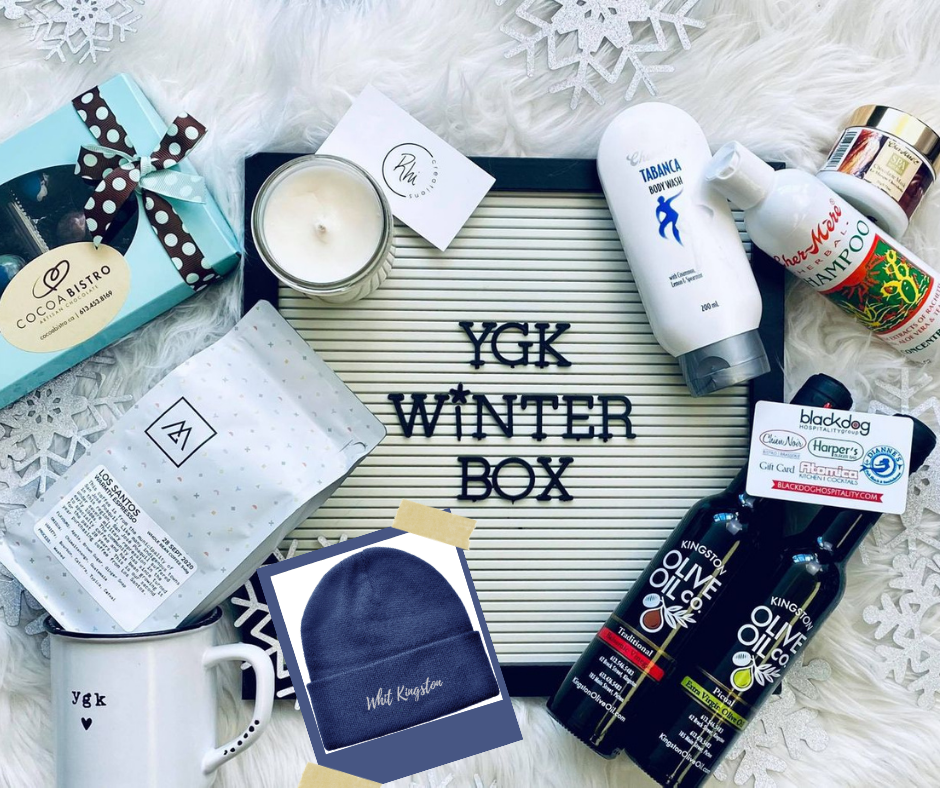 Give them Kingston: If you really want to give the gift of Kingston's finest, check out the YGK Box! The box consists of: a $50 gift certificate to the Black Dog group; natural products – a face mask, body wash and shampoo from Cher-Mere; a signature toque made by Whit Kingston; coffee from Northside espresso + kitchen; a coffee mug with from Lace and Twig with the insignia 🖤 YGK; a soy candle from Rhi Creations; a two piece oil and vinegar set from Kingston Olive Oil and Company; and to top it off handmade chocolate truffles from Cocoa Bistro! Boxes will be shipped Dec 14.